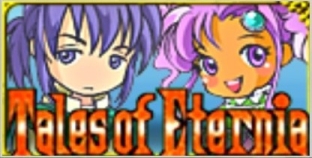 yaminabe's Tales of Eternia fan site
Updates:
(23 Dec 2022) Added Encyclopedia of Eternia, a collection of encyclopedia entries translated from several official guidebooks that I will continue to gradually update.
(21 Dec 2022) Uploaded two more video installments (6-1, 6-2) of Tales of Asteria arc 6 chapter 2 "Meredy: The Feelings That Transcend" to my Youtube channel.

Current projects:
Future projects:
the rest of the drama CDs (5-CD game adaptation, Labyrinth: Forget Me Not 2-CD post-game story, Tales of Fandom CDs, Twin Brave CD, anime drama CD)
game adaptation manga vols. 6-9
light novels & short stories (guide updated 7 Sep 2022)
manga anthologies vols. 1-9
4-koma manga vols. 1-6
staff interviews, guidebook walkthrough excerpts
magazine scans
and more...